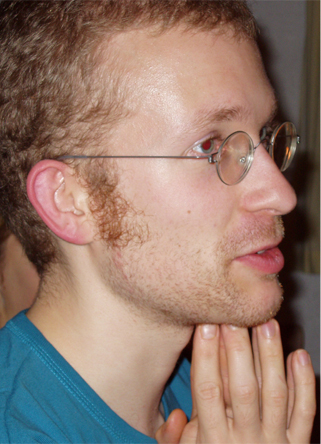 Full name: Søren Rosenlund Frimodt-Møller
Born November 3rd 1979 in Nyborg, Denmark
The driving force behind all of Søren's activities is an urge to express himself creatively, whether it is as a writer, musician, philosopher, visual artist or something completely different.
He started on the violin when he was 7 years old and has played in numerous ensembles throughout the years. Even though he is classically trained as a musician his heart lies with many other genres as well - at the moment especially progressive folk music and since circa 1992 loads of heavy metal.
Søren graduated from Kolding Amtsgymnasium with high level mathematics and music in 1998 (The Danish educational system is slightly asynchronous with the rest of the world, but the "gymnasium" corresponds roughly to the last three years of high school). After this he took a year off to deliver newspapers, sing in a church choir and write the second of his novels, none of which have so far been published commercially. (He hopes to find the time soon to revise at least one of them and try to get it out once more.) These are mostly within the fantasy genre bordering on surrealism.
In 1999 he enrolled at the University of Southern Denmark (SDU), Odense, where he studied philosophy. He had his B.A. degree in 2002 and continued with studies in applied visual communication (a film- and television-oriented line of education with a weight on the practise-based). In June 2005 he graduated with a cand.mag. degree (roughly corresponding to an M.A.). His thesis, How Society May Be Compared with the Music Ensemble: A Philosophical Investigation has spawned the name of this homepage which translates "Orchestral Philosophy". Even if philosophy of the music ensemble is not his only research interest, the multitude of elements often pasted together in Søren's philosophy indeed makes it orchestral.
After graduation Søren has given several talks at conferences, in fora of music teachers and elsewhere, owing especially to the interest provoked by an edition of the philosophical program Eksistens on Danish national radio devoted to the theme of Søren's thesis (half of the show being an interview with Søren). He also worked as a consultant for the Danish stand-up comedy booking and management bureau, FBI (Funny Business Inc.) on a special 3-month project which utilised Søren's theoretical expertise in the area of humour (the subject of his B.A. project).
Søren is deeply involved in the Network for Interdisciplinary Studies of Music and Meaning (abbreviated NTSMB in Danish), based at the SDU, and is the managing editor of the related peer-reviewed online magazine JMM: The Journal of Music and Meaning. He also writes for the genre magazine heavymetal.dk.
From November 2006 Søren has worked as a technical assistant at the national tv-station TV2 which has its headquarters in Odense.
In august 2007 he is enrolled as a Ph.D.-student at the Institute for Philosophy, Education and the Study of Religions (IFPR) at SDU, Odense where he will be working on a project about the composition and its normative role in the music ensemble.